The designer of SolarYpsi, Nik Estep, has added a new feature to the "installation" page. At the bottom of that page there is a link to compare sites. Clicking on that link will bring you to a new page with the all the solar curves on one graph.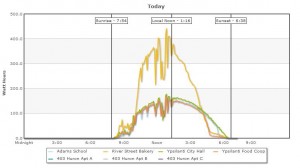 In the graph you can see that the Bakery generates more than twice as much power as the other sites. This is because it's a 6KW systems where as the others are all around 2.4KW. You can see that it was cloudy in the morning and sunny in the afternoon. The Bakery's power drops off faster than normal because it starts to get shaded from some tress. You can see that with the Ypsi Food Coop panels too at around 4:30pm in the afternoon. You can also see that Adams School's power get's clipped a little in the very late afternoon. City Hall is very high and has no shading issue, so the parabolic curve is smooth all the way to sun set.
Note that this clipping is worse in the winter, since the sun is lower in the sky. It will be interesting to look at this comparison graph again next summer.
Click on the link and play around with the graphs for different days or weeks. If you click on the names in the legend you can turn individual curves on and off.
Yes, we need to get over to the Bakery and Ypsi Food Coop and trim some trees.