Today I noticed that there was no data for the Ypsi Food Coop and the River Street Bakery on SolarYpsi for the past few days. I was surprised because Nik Estep added code to the website to send me email when a laptop stops sending data. I walked down to the Ypsi Food Coop to see what was up and was surprised again to see the laptops happily sending data, but all zeros. A quick walk outside answered all my questions, I saw this.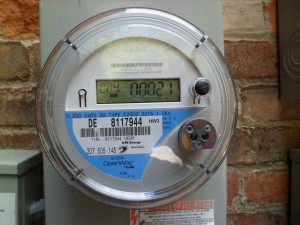 The Ypsi Food Coop and River Street Bakery got new digital utility meters. I opened up the customer access box to find our laptop wires connected to ……nothing.
We'll have to do some research and figure out how to read these new meters. Sure wish I would have known a head of time. I also need to ask Nik to add more code to alert me when a laptop is sending all zeros to the website.