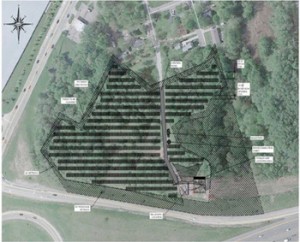 About a month ago DTE Energy sent out a request for proposals (RFP) for a solar installation with up to 2 MW (mega-watts) of photovoltaic panels. Several of us in Ypsilanti caught wind of the RFP and passed it along to the City along with some ideas for a possible location. The RFP asked for a highly visible location, preferably along a major highway, like I94. This played well for Ypsilanti because the City owns about 7 acres of land adjoining I94 on the South end of town which use to be an old city dump. The land has not been used for many decades and is mostly grown over with brush and trees. Being an old dump this land is hard to develop because any building foundation would have to deal with what ever is in the dump and whether it would support the weight of a building. A solar installation on the other hand is an ideal use for an old land fill and has been done many times before.
The City worked with the industrial solar contractor SunDurance to put a plan together for a 1.3MW solar farm on the old city dump. The proposal got submitted last week and all we can do now is cross our fingers that we make the cut and DTE Energy selects the City of Ypsilanti as the next location for a very large solar farm.
Here are some articles from the Ann Arbor News about the project and it's approval at the City Council meeting.
Former Ypsilanti landfill could be site of $4M DTE Energy solar project
Ypsilanti officials optimistic about proposed $4M DTE Energy solar project on former landfill
I'm hopeful the City of Ypsilanti will be selected and if so, I'd like to see a small observation/informational area created at the end of the exit ramp to educate the public about the project and solar power in general. This is one step closer to making the City of Ypsilanti a Solar Destination.