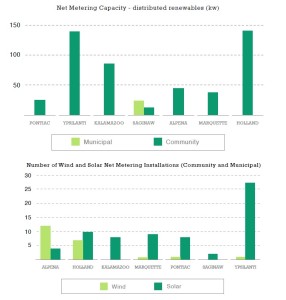 Michigan Saves has just published two new reports, one profiling the clean energy efforts in seven Michigan communities, which features Ypsilanti as one of those communities. The other is a statewide profile of energy use and deployment of four clean energy technologies.
Page 9 shows a graph where Ypsilanti is tie with Holland Michigan for the most "Net Metering Capacity" and another graph that shows Ypsilanti with the most "Net Metering Installations". A summary of Ypsilanti's efforts starts on page 35 and starts with this paragraph.
"Ypsilanti is a city of almost 20,000 people located in southeast Michigan near Ann Arbor. Ypsilanti has been a leader in deploying clean energy technologies, particularly at the community level. Programs like BetterBuildings for Michigan and SolarYpsi, a grassroots effort of private individuals/solar energy advocates, have been successful in reducing energy and expanding renewable energy use in the community. Residents and businesses are engaged in sustainability issues, and city staff believe that residents and businesses choose to locate there because of the sustainability ethos in the community."
Let's install more solar power and become the "Solar Destination" of the Midwest.
Michigan_Clean_Energy_Report_Statewide_Profile_of_Energy_Use_and_Deployment_of_Four_Clean_Energy_Technologies
Michigan_Clean_Energy_Report_A_Profile_of_Clean_Energy_Efforts_in_Seven_Michigan_Communities