SolarYpsi started around 2005 with four solar panels installed on the Ypsilanti Food Cooperative. Over time more solar was installed in the city and we started the SolarYpsi.org website to showcase these installations and to start tracking the amount of solar power. As of today the SolarYpsi website has 116 solar installations from California and the Upper Peninsula, but the bulk of them in the Ypsi/AnnArbor area and 72 solar installations in the City of Ypsilanti. While SolarYpsi did not have a hand in all of the installation, they have helped from just planting the idea, giving solar presentations, making quotes, connecting home owners to contractors, all the way to designing and installing several of the systems. I was actually surprised when I asked the city for a list of all addresses that pulled a permit for solar power and discovered that the SolarYpsi.org website was missing 16 installations! A little solar detective work using permits, google maps, and driving by the homes and I'm confident that we have them all accounted for now.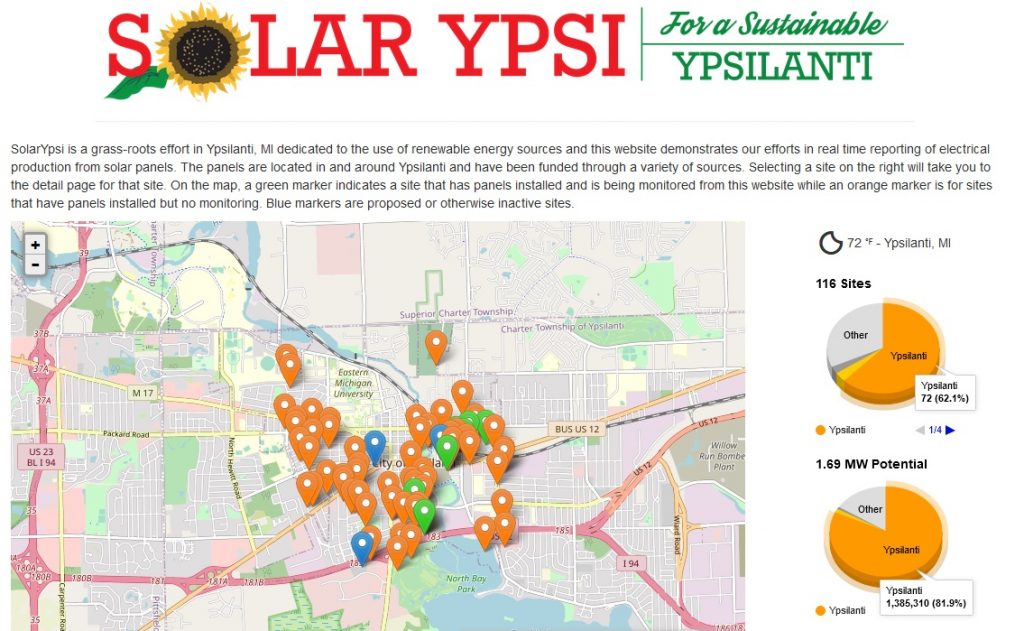 The solar installations in the city range in size from a single panel to power some outdoor device to 2520 panels installed in the Highland Cemetery. On average, Ypsi has installed about 92 kilowatts per year and about 5 installs per year. In2005 with the system on the Ypsi Food Co-op, the panels cost $1000 and generated 190 watts of power, $5.26/watt. Today we can buy 320 watt panels for about $200, $0.62/watt. That's an 8.4 times improvement in the past 15 years. In 2005 we would fret about a phone line that might cross in front of the panels and shade them a bit. Now the majority of the costs is in the labor and we want to figure out the fastest way to install the panels.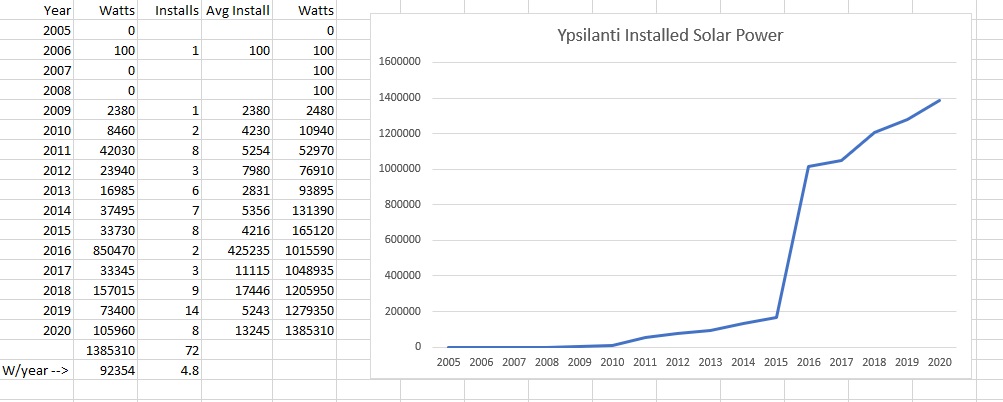 Ypsilanti has come a long way in 15 years with 1.3MW of solar capacity. The city has been published in several magazine touting their solar achievements, been on TV, the internet, podcast, and won several awards. Unfortunately we're not going to make our goal of 1000 solar roofs by 2020. If we say an average solar roof is 5kW, then we have about (1.385MW/5kW) 277 solar roofs in the city, less then a third of our goal. I'm still pushing to get a megawatt of solar installed on the old landfill near the Huron Street exit on I94 and to put solar on 100 low income homes, but still lacking the funds to make either happen. What we really should be proud of is that if you divide our solar capacity by our population we're currently at 66 watts per person, that makes us better that San Francisco, CA and Austin, TX.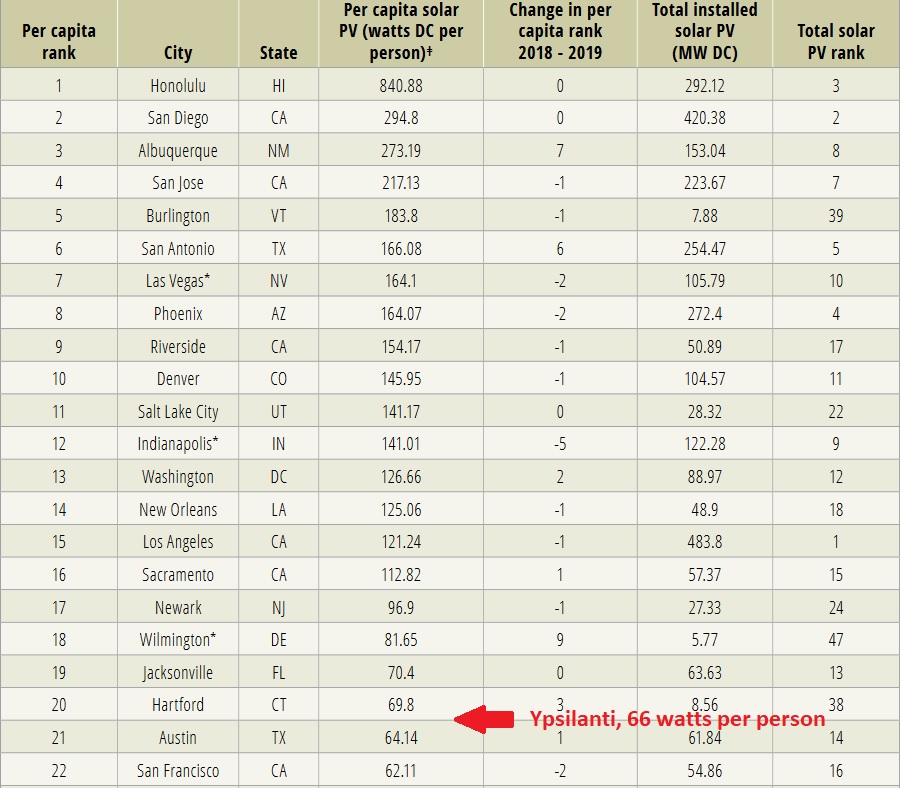 So we're not done yet. The Federal renewable energy tax credit is still in effect for two more years and maybe longer depending on who gets elected. The price of solar panels continues to drops and solar power still has a positive return on investment. If we could find some funding, we could make the landfill and/or low income home projects happen and double our numbers.
Call a solar contractor today and get a quote to put solar on your home, church, business, or non-profit. Call your philanthropic friends and organizations and ask them to talk with the "solar guy in Ypsi" and lets make some big projects happen. Not sure we could ever beat Honolulu (840 watt per person), but we could easily double or triple our numbers and get in the top ten.