In the Fall of 2012, DTE Energy asked communities for locations to install a large solar array from 500KW up to 2MW. DTE said that they would prefer locations in Detroit and along major expressways like I-94.
more
.
Solar installer SunDurance and the City of Ypsilanti responded with a proposal to install the solar array on the long abandoned City owned landfill along I-94 near Huron Street, exit 183.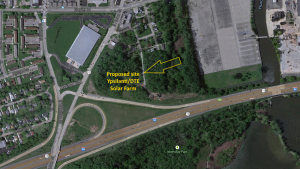 Here are a couple of news articles about the project.
Ypsilanti officials optimistic about proposed $4M DTE Energy solar project on former landfill
DTE Energy: Proposed $4M Ypsilanti solar array project moving onto final selection round
With Ann Arbor airport solar plans stalled, Ypsilanti re-pitches DTE for array near I-94
Ypsilanti is Shovel Ready. The City Council has already approved the agreement. The location meets DTE's requirement for high visibility along I-94 with over 100,000 cars driving past every day. Old landfills are a perfect location for a solar array making use of land that would otherwise sit idle forever. A ballasted solar rack design has no ground penetrations and poses little to no risk of disturbing the landfill's contents. Ypsilanti is already very pro solar and well on it's way of making itself a "Solar Destination". Here are some other solar landfill examples.
Solar Landfills: the Future?
Hickory Ridge Landfill Solar Energy Cover
Share this with your friends and ask everyone you know to sign the petition. You don't have to live in Ypsilanti to sign the petition and only your Name and City will be shared with DTE.
Latest Signatures
815
Evan Kutz
Aug 14, 2019
814
Michelle Labelle
Apr 08, 2016
813
Dwayne Reid
Jul 24, 2015
812
kaitlyn mays
Jul 03, 2015
811
noah turcsanyi
Jul 03, 2015
810
Cameron Thomas
Jun 23, 2015
809
abigail small
May 25, 2015
808
Samuel Fineberg
May 18, 2015
807
Kay Brainerd
May 04, 2015
806
brianna woods
Apr 30, 2015
805
Emily Wingfield
Apr 20, 2015
804
valerie wells
Apr 15, 2015
803
Nancy Asher
Apr 14, 2015
802
Robert Satchwell
Apr 12, 2015
801
Augusto Lee
Apr 09, 2015
800
Daniel Vogt
Apr 09, 2015
799
Inge Gaenssle
Apr 08, 2015
798
Drew Phillip
Apr 08, 2015
797
Isaac Wingfield
Apr 01, 2015
796
James Fishelson
Mar 31, 2015
795
Mary Burton
Mar 30, 2015
794
Marnia hardy
Mar 23, 2015
793
Carola Carlier
Mar 23, 2015
792
Leah Fox
Mar 22, 2015
791
Ashley Fox
Mar 22, 2015
790
Alex Gooding
Mar 22, 2015
789
Blaise Hebert
Mar 21, 2015
788
Chuck Marshall
Mar 20, 2015
787
Charlotte payne
Mar 19, 2015
786
Adam Robson
Mar 19, 2015
785
Julie Seagraves
Mar 19, 2015
784
Elizabeth Main
Mar 17, 2015
783
TINA KILGORE
Mar 16, 2015
782
Mary Mullalond
Mar 15, 2015
781
Catherine Mullalond
Mar 15, 2015
780
Henry Braunz
Mar 15, 2015
779
Cheryl Weber
Mar 14, 2015
778
Steven Long
Mar 14, 2015
777
Liano Sharon
Mar 14, 2015
776
Angela Peters
Mar 14, 2015
775
David DeRossett
Mar 12, 2015
774
Daniel Hoppe
Mar 12, 2015
773
Joshua Steverman
Mar 12, 2015
772
Tony Reames
Mar 12, 2015
771
Christine Hume
Mar 11, 2015
770
Maxwell Kelley
Mar 11, 2015
769
Evan Dority
Mar 11, 2015
768
Baylee Harding
Mar 11, 2015
767
Margaret Arden
Mar 11, 2015
766
Aaron Bookvich
Mar 11, 2015
< >