2015 was another record year for solar installations in Ypsilanti with 8 new locations. Most of these came from our wonderful anonymous donor who funded solar projects on six non-profits in town. These locations included the Ypsi District Library, Parkridge Community Center, Ypsi Senior Center, Washtenaw International High School (WiHi), the Corner Health Center, and the Ypsi Department of Public Services (DPS on Forest). Add to this a couple of residential solar installations, and we're climbing our way to a 1000 solar roofs.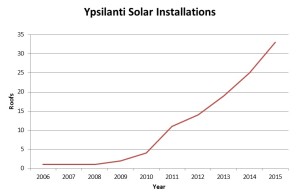 While we're only at 33 solar installations so far, Ypsilanti made a lot of progress towards a large solar farm in town. When DTE announced plans for a large solar installation near the Ann Arbor airport, the community rallied and started asking questions about the proposed solar installation for the City-owned property near exit 183 on I94. With over 800 signatures on a petition asking DTE to reevaluate Ypsilanti for a large solar installation, they found a suitable
location on the north end of town in the Highland Cemetery. So far, everything is on track for this project to start in the spring.
The Mott Foundation funded a report looking at the state of renewable energies in the State of Michigan and Ypsilanti was one of seven communities they investigated. The report showed that Ypsilanti had the most solar installations of all the communities! You can see the report here.
Eastern Michigan University continues to send students to learn about solar power first hand and several term papers have been written about solar power in Ypsilanti.
The SolarYpsi.org website continues to grow with a total of 63 locations on the website. If you haven't seen the aerial videos that Cameron Getto has been putting together, you can check them out here. They are amazing!
SolarYpsi gave 17 face-to-face presentations in 2015 reaching another 282 people first hand and answering questions. These included one-on-one meetings with home owners and large events like the National Solar Tour and the annual Michigan Energy Fair.
Ypsilanti now has 173,635 watts of installed solar power or (173,635/19,809) 8.7 watts per capita. While this is still a tiny number, if we add in the proposed 800kW solar installation at the cemetery we'll have (973,635/19,809) 49.1 watt per capita. If we can get a few more watts installed, we'll be one of Environment America's Shining Cities with over 50 watts per capita.
The only sad news this year was that our long time developer of the SolarYpsi.org website is moving on to new opportunities, and we need to find a new web developer.
Here's to another banner year for solar power in 2016 bringing Ypsilanti closer to becoming a Solar Destination!