With all the recent solar installations going on in the City of Ypsilanti, I looked are our totals on the pie chart on the home page. We are currently sitting at 1,154,385 watts or 1.15MW. This is a bit conservative, since I know of a couple of solar installation that are not on SolarYpsi yet.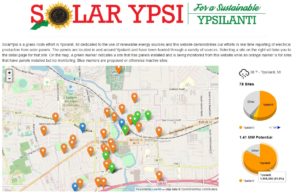 Looking at our current population on the Ypsilanti Wiki page, there are 21,076 people living in the city. Dividing 1,154,385 watts by 21,076 people we have 54.77 watts per capita.
Then looking at the 2018 Environment America Shining City report, page 7, I can see that San Francisco is ranked #18 with 54.1 watt/capita and Washington DC is ranked #17 with 69.4 watts/capita.
That makes Ypsilanti number #18 in the national for solar on a watts per capita basis. Woohoo!!
Granted we're a small city, but something we can all be proud of achieving. Let's install more solar power and shoot for over taking Honolulu and being #1. Call a solar contractor today and get a quote.