Come out and see us!
What's cooking in solar in Ypsilanti?
Who: Dave Strenski speaking about solar power

What:  Special guest and local solar expert and promoter, Dave Strenski, will be covering all of the solar action that has been growing in Ypsilanti, Michigan. Basics of how solar works and its value will be covered briefly, but this is more than 'Solar 101'. All are still welcome. (https://www.meetup.com/Ann-Arbor-Solar-Sustainability-Meetup/events/243532208/)

When: 
Thursday
November 2nd
, 2017   6:30pm – 8:00pm


Where:
SPARK East Incubator,
215 W Michigan Ave, Ypsilanti, MI 48197

Contact
:
Steven Sherman (szsherman@gmail.com)

Not able to make the presentation? Then take our virtual tour of solar installations in Ypsilanti on the SolarYpsi YouTube channel (YouTube.com/SolarYpsi)
. You can also learn about solar power in Ypsilanti by watching this
TEDx talk
.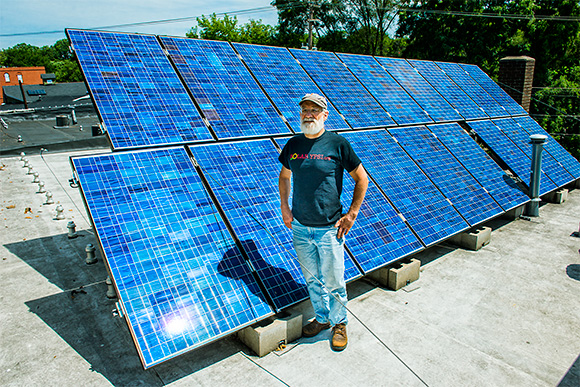 Ypsialnti's Solar Large Roof Project

Who: Dave Strenski solar presentation at Ypsilanti City Hall

What: In an effort to greatly increase the amount of solar power in Ypsilanti, SolarYpsi surveyed 50 of the largest roofs in Ypsilanti using Goolge maps. Then pushing those address through Google's Project Sunroof (https://www.google.com/sunroof) calculated how much solar could be installed on just those 50 roofs. Ypsilanti currently has just over one megawatt (1,000,000 watts) of installed solar power. If we could fill these 50 roofs with solar power, we could add seven additional megawatts of solar power! Come to this information meeting to learn the basics about solar power and view the solar potential of some of the largest roofs in Ypsi. Free and open to the public.

When: 
Tuesday
November 14th
, 2017 5:00pm – 6:30pm


Where:
Ypsilanti City Hall,
1 S Huron St, Ypsilanti, MI 48197
Contact
:
Dave Strenski (Dave@Strenski.com)

Not able to make the tour? Then take our virtual tour created by Cameron Getto on the SolarYpsi YouTube channel (YouTube.com/SolarYpsi)
.  You can also learn about solar power in Ypsilanti by watching this
TEDx talk